Hazardous household waste
Last updated May 20, 2021
What is hazardous household waste (HHW)? Here are a few examples: Cans of paint, cleaning products, used oil, batteries and lightbulbs. HHW must never be thrown away outdoors, put in your bags of household waste or thrown in the sewer.
Hazardous household waste (HHW) includes a wide range of products that are used every day.
Labeling of hazardous products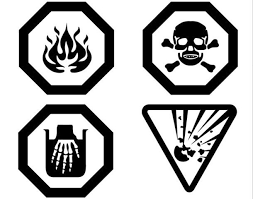 On hazardous products, there are usually one or more pictograms that indicate that the product is corrosive, flammable, toxic or explosive.
We have two objectives in collecting hazardous household waste: 
Protecting the environment against potential sources of contamination.

To give residents an alternative to storing products in their homes that could potentially be dangerous to their health.
Information and services
Borough
Find out more about the topic and our services.
will become your favourite borough.