Design plan for Parc du Bassin-à-Bois and Place des Arrimeurs
Last updated May 27, 2021
Reading time: 2 min
Parc du Bassin-à-Bois and Place des Arrimeurs will increase the availability of green space in the Griffintown neighbourhood. The project includes construction of a refrigerated skating rink, a service chalet and design elements inspired by the historic character of the sites.
Parc du Bassin-à-Bois and Place des Arrimeurs
Located in the Bassins du Nouveau Havre district, Park du Bassin-à-Bois and Place des Arrimeurs are part of a series of parks that will be created, such as Parc des Eaux-Cachées, Place William-Dow and Parc Mary-Griffin.
The park will provide facilities that complement those available at Parc du Bassin-à-Gravier, completed in 2016. The following facilities are to be constructed: an outdoor, refrigerated skating rink; lawns and planting beds.
Marie-Michelle Deschamps will create a public artwork for Place des Arrimeurs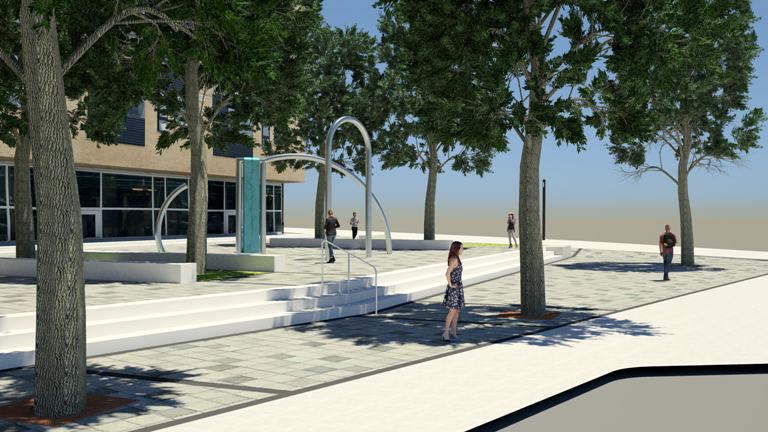 Marie-Michelle Deschamps was selected after an invited competition organized by the Bureau d'art public for the creation of an artwork for the Place des Arrimeurs design in the Sud-Ouest.
To learn more, see the
Bureau d'art public de Montréal
website.
Place des Arrimeurs is a public square where residents and others will be able to come for a chat or simply to sit. A competition was launched for creation of a work of public art to be installed there. This will be the first of a series of four art pieces to be located along Rue Ottawa's cultural corridor.
Families, children, teenagers, older folks and those with reduced mobility will be able to use these spaces to relax, have fun, and leisure activities near their homes.
All design elements were inspired by the history of the space, in particular highlighting the location of the old basin and evoking its shipping history.
Image gallery
A bit of history
Did you know that the Bassin-à-Bois district developed following construction of the Lachine Canal in 1821-1825? In 1830, the Montreal Harbour Commission decided to create an inner harbour to protect the port from ice jams. This led to the creation of the basins and other port facilities. The first basins were dug in 1848, to provide an entry point for wood and coal. From 1874 to 1883, enlargements to the canal became necessary, as shipping traffic increased, and vessels became larger. As a result, basins 3 and 4 were dug. The Parc du Bassin-à-Bois is named for its location which used to be Bassin numéro 4, where lumber was loaded.
Several events led to the later decline of industry in Sud-Ouest neighbourhoods. The most important were the Second World War (1939-1945) and the opening of the St. Lawrence Seaway in 1959.
In 1970, Canal de Lachine officially closed to commercial navigation and the basins were filled in during the following year. From 1978-1983, excess soil generated by excavation for the Montréal métro was discharged here and later used for construction of a Canada Post sorting centre.
This history, including commercial navigation, barges, piers, the water, the loading and unloading of goods, was a source of inspiration for the design of the Parc du Bassin-à-Bois and Place des Arrimeurs.
Quick search