Griffintown, a neighbourhood in transformation
Last updated May 27, 2021
Reading time: 1 min
Urban design projects are underway in order to create a pleasant neighbourhood, one where individuals and families can thrive and new businesses can be established. Learn about the different initiatives underway and projects already completed.
Projects in the area
Several construction projects are happening now to continue transformation of the neighbourhood. These projects will renew infrastructure to meet the growing needs of residents, create public spaces where pedestrians have priority and enhance its historic character.
Redesign of streets and parks
In order to make Griffintown a livable neighbourhood, promote active transportation and public transit, Montréal has developed a coherent, unified design vision.
Redesign streets according to different types of streets specific to the neighbourhood—and where vegetation predominates

Create several parks

Transform Rue Ottawa into a cultural corridor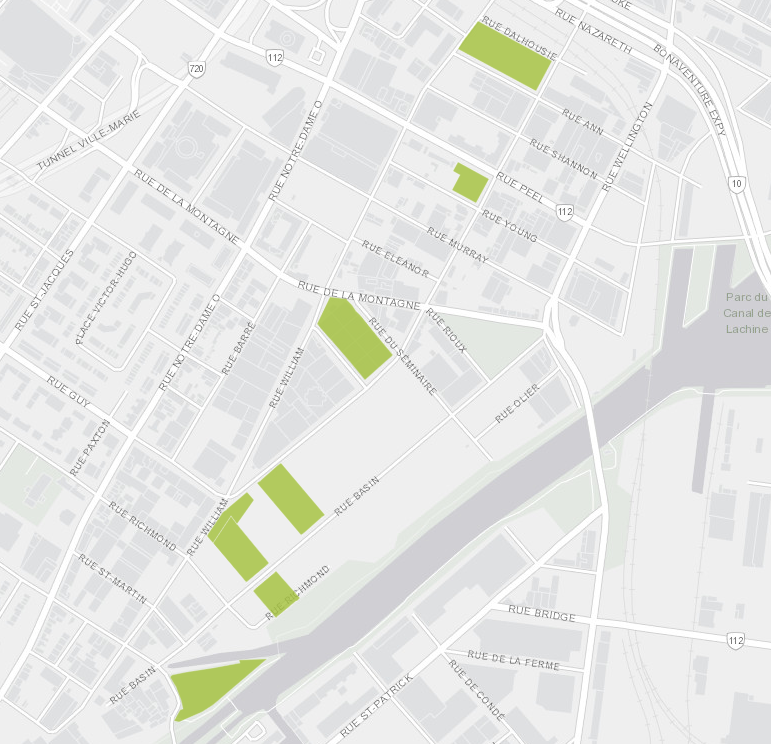 Realisations
Rue Peel, between Smith and Notre-Dame
Work on the electric, telecommunications and natural gas networks on the east side

Reconstruction of the road surface and sidewalk on the east side

Construction of a bicycle path on the east side




 
Rue Rioux, between des Bassins and de la Montagne
Installation of new lampposts

Creation of a new, small public plaza at the north intersection, at rue de la Montagne

Widening of sidewalks

Adding granite curbs

Adding tree planting pits

Adjusting the rainwater collection network

Permanent asphalting of the roadway 
Rue William, between Guy and Canning; and Rue Canning, between William and Notre-Dame

Repair of an Énergir gas line

Installation of new lamppost bases

Construction of a conduit duct bank (a concrete underground structure that houses electric and telecommunications cables)

Permanent asphalting of the roadway

Temporary materials were used for concrete edging and sidewalks, until the real estate development constructions are completed. Final work on these elements will be done later.

Construction of bicycle paths

Rue Ottawa, between Guy and du Séminaire

Work on sewers and drainage at the Rue Saint-Thomas intersection

Completion of tree pits on sidewalks

Surface work

Creation of a raised bicycle path, halfway to the sidewalk curb height, on the south side of Rue Ottawa
William water retention basin
Quick search