Griffintown district: Work underways
Last updated December 20, 2021
Reading time: 2 min
Griffintown is undergoing unprecedented urban development. To respond to its densification and provide its residents with a better urban experience, public spaces are being redesigned and infrastructure is being upgraded in 2021.
Coming soon in your neighbourhood
Now in your neighbourhood
Work notices
Current work projects may have an impact on your daily life. Here is what you need to know about current work site activity, its impacts and the alternative measures offered by Montréal.
Work obstruction maps, week of August 2
This map shows only planned obstructions related to the work. Other, temporary issues may be added. A partial obstruction may block one lane, one direction or a parking lane.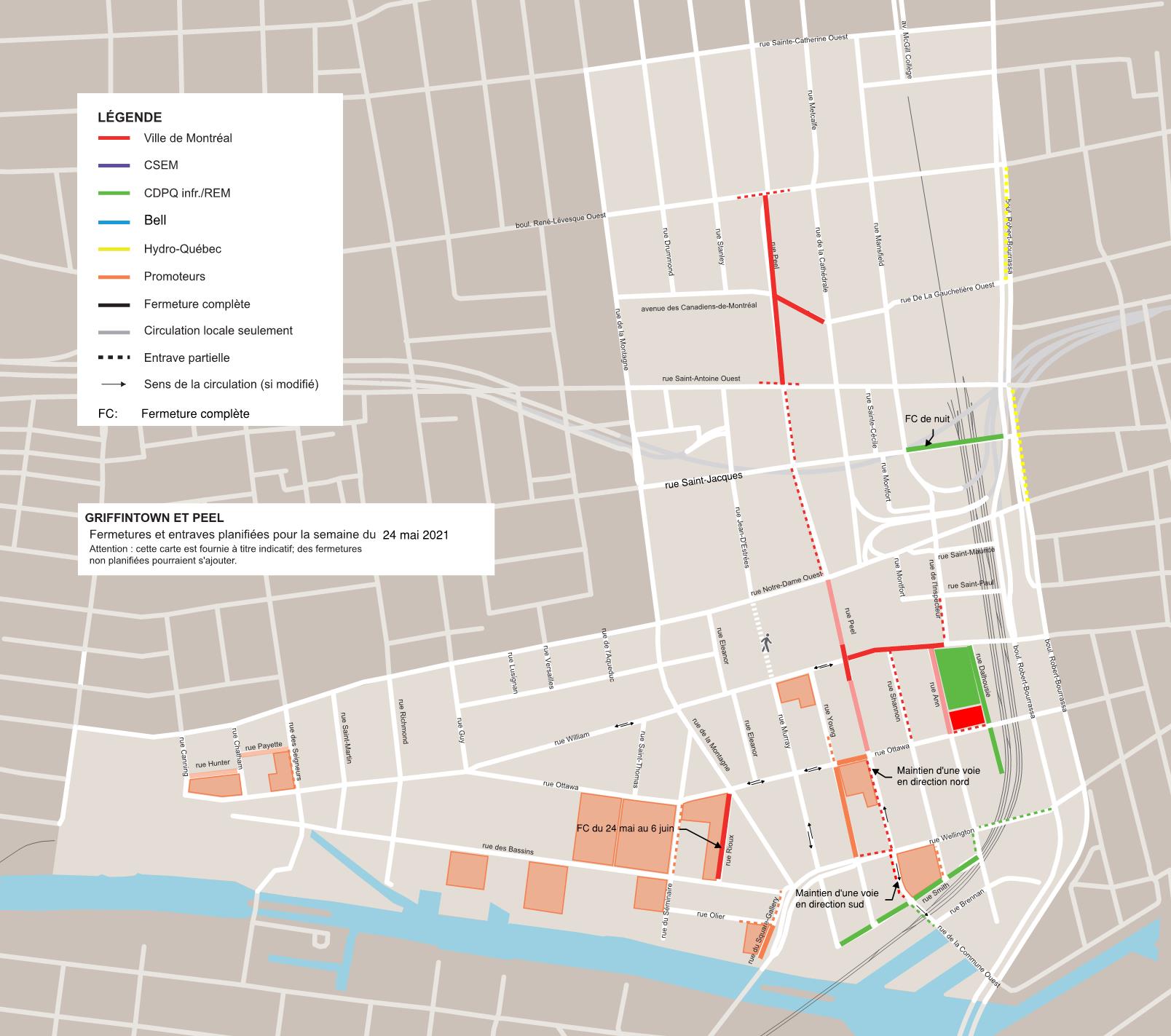 Learn all about the projects
Between Inspecteur and de la Montagne
Scheduled end of work: Summer 2022
Continuation of reconstruction of a wastewater and stormwater sewers, as well as secondary and principal waterlines

Restarting of pump to maintain collector water flow during the project, in Rue William, between Rue du Shannon and Rue Peel. Note that the pump will be moved as work progresses. When work between Rue Ann and Rue Peel is completed, the pump will be moved to the west of Rue Peel

Continuation of upgrading of urban technical networks (Énergir, Bell, Commission des services électriques)

Enlargement of sidewalks and addition of bike paths

Construction of concrete curbs. For now sidewalks and bike paths will be in temporary materials; permanent materials will be used later. Since private development construction projects are underway, it is not possible for these elements to be permanent. This is because some of them may be partially demolished to allow future buildings to be connected to the water, sewer, natural gas, electricity and telecommunications networks. Permanent covering will be done later.
Rue de la Montagne
between Rue William and Rue du Séminaire
End: Summer 2022

● Sewer and water lines will be replaced.
● Sidewalks will be demolished to accommodate the work and then be rebuilt.
● Curb extensions will be built at each corner of the Rue William/Rue de la Montagne intersection to slow motorists, improve pedestrian and cyclist safety and raise residential quality of life.
corner of Rue Guy and Rue William
Redevelopment work at the Place des Arrimeurs: November 2021 to June 2022
The planning concept calls for:
A public place with concrete paving stones and granite steps.

The installation of a public artwork.

The installation of custom park furniture, including benches, waste and recycling bins.

The protection of two existing trees.

The planting of eight deciduous trees, 140 deciduous shrubs, 19 conifer shrubs, 1,393 perennials, and grass.
*WAA Montréal Inc created the design for the Place des Arrimeurs.
Service building: intersection of Rue Ottawa and Rue Ann
A service building, for use both as a pumping station and electric substation, will be constructed during 2022, on the site housing the William retention basin, which is located between Rue William, Rue Dalhousie, Rue Ottawa and Rue Ann

About one third of the parcel (Rue Ottawa side) will be reserved for construction of the service building

The two thirds on the north side will be used by REM until the end of its construction, in particular to store materials. Some obstruction of the road and sidewalks is to be expected from this. Please contact REM for more information.

Once work on the REM project ends, a park will be created at this location: Parc Mary-Griffin
Construction of the William retention basin is part of the Autoroute Bonaventure redevelopment project and Griffintown neighbourhood development projects. It benefits from a 66% grant from the Fonds Chantier Canada-Québec governmental program.
Why?
Griffintown is a former industrial zone currently being transformed; the number of residents in the neighbourhood has greatly increased. Existing infrastructure was not designed to serve so many people. Since it is one of Montréal's oldest districts, most of the pipelines are at the end of their useful life and must be replaced to avoid leaks and resulting damage.
Montréal sees the infrastructure work as an excellent opportunity to redesign public space in order to:
Maintain and enhance built heritage, as well as the street grid and the major arteries that run through Griffintown and connect it to the rest of the city;

Conceive streets as livable spaces, not just as space for transportation

Emphasize vegetation

Promote active transportation and public transit

Make density in Griffintown livable, with setbacks and openings, places to linger, with natural light and vegetation, for breathing and meeting

Encourage the flourishing of artists, artisans and others that are part of Montréal's creativity. This will include establishing a 'cultural corridor' on Rue Ottawa (which will link several cultural and creative spaces in the neighbourhood, making it a showcase).
Work hours
The city's regular construction hours in Griffintown are:
Monday to Friday from 7 a.m. to 7 p.m.

Saturday from 8 a.m. to 7 p.m.

Sunday from 8 a.m. to 6 p.m. (only for public infrastructure work)
Work on the William retention basis follows extended hours, Monday to Friday from 7 a.m. to 11 p.m., and Saturday from 8 a.m. to 7 p.m., until work ends.
Work impacts
Impacts on mobility
Work may cause partial or complete street closures, and changes to traffic direction

To learn about current obstacles created by the city or its partners, please consult the

work information map

(in French). This page shows only planned obstructions, other short-term obstacles may be added.
Solid waste collection
The usual solid waste schedules remain in effect, i.e. Wednesday from 5 to 8 a.m. Please continue to respect these schedules.

Contractors will be responsible for moving bins and garbage bags away from work areas

Please indicate your address on the bins to ensure they are returned after waste collection
Access to buildings and homes
Access to buildings will be maintained at all times

Access to indoor parking will be maintained most of the time, aside from exceptional situations
Resident-only (permit) parking
The work will affect sticker parking zones (SRRR)

If you have any questions or comments regarding parking stickers, please contact 311

Request for action against illegal parking: Montréal police officers (SPVM) are responsible for enforcing parking regulations in all boroughs. Call 514-280-2222, 24 hours a day.
Sidewalk circulation
The city asks contractors to maintain a continuous pedestrian corridor on one sidewalk whenever possible. Temporary passageways may be used if needed (depending on the type of work and duration of the project).